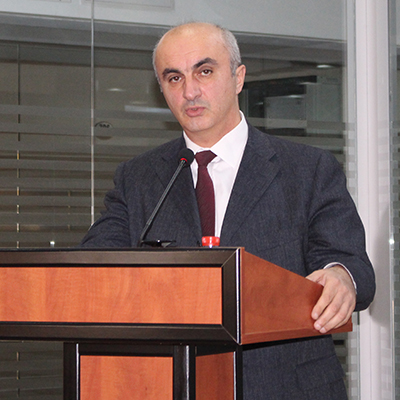 17.02.2021
1269
Professor of Azerbaijan University Asif Hajiyev gave an online lecture on "History, typology and poetics of Russian and Azerbaijani network literature" for students majoring in philology and regional studies at the faculty of "Regional Studies and Ethnocultural Education" of Moscow State Pedagogical University. Before the lecture, the dean of the faculty, Professor Yelena Omelchenko, introduced Professor Asif Hajiyev to the participants, informed about his scientific and pedagogical activities and books which were published in different countries. In the lecture attended by more than 70 students, teachers and postgraduates of the university, Asif Hajiyev gave detailed information about the history, creative nature and artistic features of network literature, which is one of the current issues of the modern literary process and literary criticism. Typology, content and form features, genre system, functional aspects of Russian network literature were discussed in details in the lecture.
The importance of a tolerant attitude to the ethnic culture, national characteristics and traditions of peoples in modern social networks, including Russian-language information, cultural and educational networks, was noted, and the experience of our country in this field was cited as an example.
Giving a comparative information about the Azerbaijani network literature, Professor Asif Hajiyev said that along with other languages, Russian is widely used in society, education and reported to the audience the development of Russian-language literature and operation of various Internet networks.
The lecture on the International Mother Language Day touched upon the multicultural environment and state policy in Azerbaijan, emphasizing that favorable conditions have been created for the development of the language and culture of Russian and other peoples.
After the lecture, which lasted more than an hour, Professor Asif Hajiyev answered numerous questions from teachers and students.
In addition to questions on the topic, teachers' and students' questions were asked about Azerbaijani literature and culture with the impression of a lecture.
At the end of the event, Asif Hajiyev presented the electronic version of a textbook "Russian network literature: context, history, typology, poetics" (Русская сетевая литература : контекст, история, типология, поэтика),to the participants, published by the "Higher Education" publishing house in Saratov, Russia which is used in Russian Universities.
It should be noted that a large article by Asif Hajiyev on Russian network literature was published in the prestigious Moscow magazine "Ethnodialogs".
Public Relations Department
17.02.2021