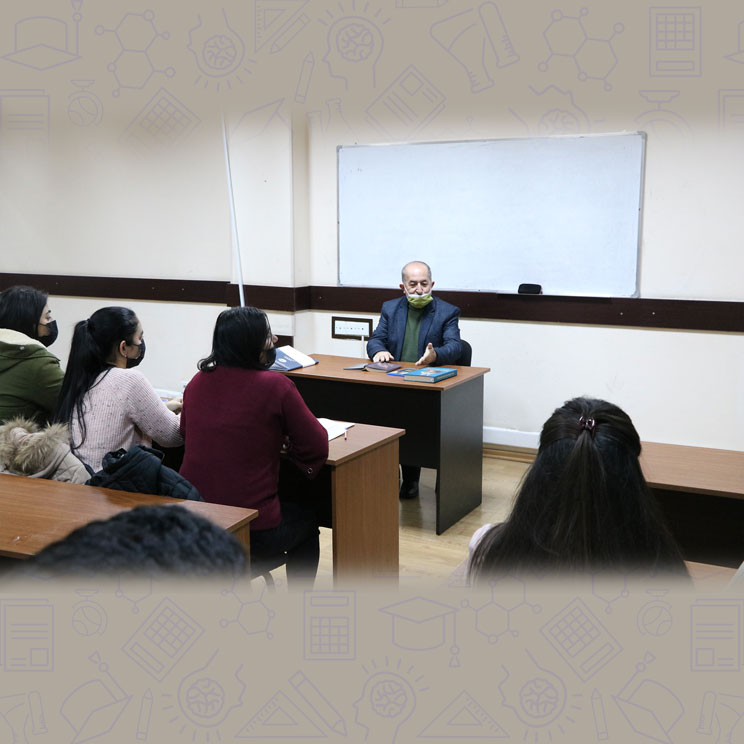 01.12.2021
333
Professor of the Azerbaijani Language and Literature Department Maharram Gasimli gave a lecture to students majoring in philology entitled "The great master of the art of Ashug" dedicated to the 200th anniversary of Ashig Alasgar, a prominent representative of Azerbaijani literature.
In the lecture, the professor spoke in detail about the historical roots of Ashig Alasgar's poetry, the grandeur of this poetry, the future of this art. He noted that the heritage of Ashug Alasgar, one of the most prominent figures of Azerbaijani ashug art, has always been highly valued by our state. The first book published on ashug poetry in the 1930s was Ashig Alasgar's book. Since then, books on Ashig Alasgar's legacy are published every decade. Ahliman Akhundov, Mammadhuseyn Tahmasib and Islam Alasgar have done valuable work in this direction. But the most valuable work and, in general, a strong focus in this direction began in the 70s. In 1972, on the instructions of the great leader Heydar Aliyev, an event dedicated to the 150th anniversary of Ashig Alasgar was held in Baku and Moscow - in the Kremlin Palace. As a result of Heydar Aliyev's political authority, Dada Alasgar's bust was erected in Goycha district, in his homeland. In the following periods, the 170th, 175th, 180th, 185th and 190th anniversaries of Ashig Alasgar were celebrated at the state level.
Maharram Gasimli said: "I highly appreciate the order of President Ilham Aliyev on the 200th anniversary of Ashig Alasgar. Because the special attention paid to culture during the pandemic, the announcement of the "Year of Nizami" in our country, as well as the celebration of the anniversary of Dada Alasgar is an extraordinary event. In this sense, the order shows the importance of the humanitarian policy pursued by our state. "
Public Relations Department
01.12.2021